Announcements
Weekly Update: Shabbat Noach 5782
10/07/2021 10:32:01 PM
| | | |
| --- | --- | --- |
| | Weekly Update: Shabbat Noach 5782 | |



| | |
| --- | --- |
| Candle Lighting: | 6:09 PM |
| Mincha/Kabbalat Shabbat: | 6:10 PM |
| Shema After: | 7:07 PM |
| Daf Yomi: | 8:00 AM |
| Shacharit: | 9:00 AM |
| Morning Shema Before: | 9:52 AM |
| Mincha: | 5:50 PM |
| Seudah Shelishit: | 6:10 PM |
| Shabbat Ends: | 7:07 PM |

Masks On! We are carefully monitoring the constantly-changing path of Covid-19 and consulting with our medical advisors. This Shabbat we will continue to wear our masks. We expect everyone present, regardless of vaccination status, to wear a mask that covers the nose and mouth while inside the building. Kiddushes will be held outdoors.

Friday Night Kiddush has been provided by the house.

Shabbat Morning Kiddush has been sponsored by Dina & Kenny "the Cohen" Canfield in gratitude for Kenny's Chatan Beraisit Honor.

Shabbat Afternoon Services are Back! For the foreseeable future, we will be davening Shabbat Mincha and Maariv together with Rabbi Joe Wolfson and his students. Seudah Shelishit will generally be offered, but its availability and location will depend upon local COVID positivity rates and weather. This week's Seudah Shelishit will be served outside.

News

We offer blessings of consolation to Harris Marks on the passing of his father, Richard Marks ז"ל. The Shiva schedule may be found here.


We are grateful to our Dr. Rebecca Betensky & Jeremy Newberger for sponsoring last Shabbat's Seudah Shelshit in observance of the Yahrtzeits of their fathers, Joseph Betensky and Philip Betensky.

We were unsuccessful in restarting the weekday morning Minyan. Moving forward, we would like to convene a Shacharit Minyan THIS Sunday morning. We will meet at 8:00 AM. Please help us make this a consistent success.

Please consider participating in our Kol Nidrei Campaign. Your support is essential - not only for our continued success - but to help us in our much needed re-building. We remind you that any amount helps our efforts and lifts our spirits.

If you made a Yizkor pledge on Shemini Atzeret, one possible way of fulfilling it is donating to your Synagogue. Click here.

On Tuesday, October 26th, we will host an event to honor the memory of Rabbi Lord Jonathan Sacks z"l. Rabbi Sacks was not only a world renowned Jewish thinker and leader, but an advisor and friend of our community. The event will feature chavruta study of materials specially prepared for the event by the Office of Rabbi Sacks as well as reflections on Rabbi Sacks and his Torah from educators, rabbis and scholars of the downtown Jewish community. We ask that you sign up here.

---

Membership has almost no privileges.


But it's the right thing to do and it allows us to thrive. Won't you please share in our great legacy and help us continue our impressive revitalization? There are, of course, various membership options and we hope that one works for you.

| | |
| --- | --- |
| Membership Level | |
| Family | $1000 |
| Individual | $550 |
| Associate | $300 |
| Student | $150 |

You can also Venmo us @sixthstreetsynagogue, or mail a check to 325 East 6th Street, New York, NY 10003.

---


Classes

Our classes are being held on Zoom. For those of you who do not know, Zoom is a remote conferencing service that facilitates meetings online, by video and by phone. A useful instructional video may be found here. We strongly encourage you to download the free app to your phones and/or computers and then click the meeting links that we provide. If you do not have the technology to participate over the Internet, you may simply dial in. We will provide the links and numbers in a separate email as well as PDFs of any relevant class material. To access a schedule of upcoming classes, class materials, and zoom links, click here.

FOUNDATIONS OF JUDAISM: A sensitive and sophisticated introduction to Judaism, intended for beginners, focusing on many of the ritual, legal, linguistic, and philosophical basics of our faith. Wednesdays, 6:30-8:00 PM. Will resume this week.

---

Downtown Community


We are thrilled to have Shifra Friedman as the Yoetzet Halacha for the downtown community. Yoetzet Shifra is available to answer questions related to Toharat HaMishpacha and may be reached by phone at (646) 598-1080 and by email. Click here to read our recent e-mail about her appointment.

There are several local Kosher options that are open for take-out/delivery:

Bagel Boss at 263 First Avenue

Mocha Burger at 496 LaGuardia Place
Mocha Red at 137 4th Avenue
Sushi Tokyo at 121 19th Street

Mendy's at 441 Park Ave South

We are proud to be a member synagogue of The Downtown Va'ad, an Orthodox rabbinic network intended to advance the welfare and flourishing of the Downtown community. Check out the Va'ad on Facebook for more information.

---

Feedback

We encourage your participation and insight. Feedback to Elie Yudewitz, Rabbi Bellino or the Shul Office would be most appreciated. Please contact us with any suggestions and/or concerns, or most importantly, to volunteer. You can also make suggestions here.

We like to have fun and be creative on social media. Like us on Facebook and follow us on Instagram for much much more!
Sixth Street Community Synagogue

We like to think we're different. Everyone from the traditionally Orthodox to the occasionally observant feels at home here - 365 days a year. We hope you do too.

Contact Us

325 East 6th Street
New York, NY 10003

info@sixthstreetsynagogue.org
Sun, November 28 2021
24 Kislev 5782
membership
Our historic and beautiful building, our thoughtful programming, and our welcoming atmosphere are possible only with the annual support of our community.
Become a member here.
Renew your membership here.
Thank you for sharing in our great legacy and for helping us to continue our impressive revitalization.
The Downtown Eruv
Our Eruv has dramatically improved our Shabbat experience and observance. It has helped our synagogues and institutions to build larger and more dedicated communities.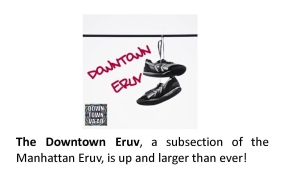 To support the Eruv click here.
Zmanim
Alot Hashachar
5:31am
Earliest Tallit
6:03am
Netz (Sunrise)
6:57am
Latest Shema
9:20am
Zman Tefillah
10:08am
Chatzot (Midday)
11:44am
Mincha Gedola
12:08pm
Mincha Ketana
2:31pm
Plag HaMincha
3:31pm
Shkiah (Sunset)
4:30pm
Tzeit Hakochavim
5:15pm
More >>
Sun, November 28 2021 24 Kislev 5782