Announcements
Weekly Update: Shabbat Pekudei 5782
03/03/2022 11:20:00 PM
| | | |
| --- | --- | --- |
| | Weekly Update: Shabbat Pekudei 5782 | |



| | |
| --- | --- |
| Candle Lighting: | 5:32 PM |
| Mincha/Kabbalat Shabbat: | 5:35 PM |
| Shema After: | 6:33 PM |
| Daf Yomi: | 8:00 AM |
| Shacharit: | 9:00 AM |
| Morning Shema Before: | 9:16 AM |
| Mincha: | 5:20 PM |
| Seudah Shelishit: | 5:40 PM |
| Maariv: | 6:22 PM |
| Musical Havdalah: | 6:33 PM |

Our building is open, but to the vaccinated only. All persons currently eligible in New York City for COVID-19 vaccination are required to provide proof of vaccination in order to enter the Sixth Street Community Synagogue building, or attend any events at the synagogue. As eligibility changes (extended to groups such as children, booster shots become available/recommended), all persons eligible will have two months from the time they become eligible to demonstrate proof of vaccination. If you have not already submitted a copy of your vaccination card, we ask that you bring vaccine verification to synagogue.

Masks OPTIONAL. With the significantly declining positivity rates, masks are now optional. We do ask that you bring your masks, anyway.

If you are immunocompromised, you are strongly urged to not attend services.
Keep in mind that there are those who might prefer to maintain a more rigorous social-distancing. If asked, please adhere to the request of your neighbor. There is plenty of room in the balcony should you prefer.
If you have tested positive and have recently been in synagogue, be sure to contact Rabbi Bellino who - along with advisors - is monitoring community positivity. (Your health status will be kept confidential).

Friday Night Kiddush has been sponsored by Vicky Scolnick in celebration of the birthdays of Yael Scolnick and Rachel Concha.

Shabbat Morning Kiddush has been sponsored by Tali Zilberman & David Neuhaus in observance of the Yahrtzeit of Tali's father, Henry Zilberman.

Seudah Shelishit has been sponsored by Helane, Sean & Mikaela Colvin and Ellen R. Cherrick in memory of Dr. Stephen B. Colvin, שלמה בן ישראל ז"ל, on his 14th Yahrzeit, on 2nd day of Adar II.

News

We wish a Mazal Tov to Gemma Sherman & Josh Segal on their recent wedding.

Thank you and Shkoiyach to all those of you who donated to support the Jewish Community Center of Kiev. Together with Rabbi Joe Wolfson we have raised over $18,000. To participate you may make a donation online, by Venmo @sixthstreetsynagogue, or by check. Be sure to specify that your donation is for Ukrainian Relief.

Shkoiyach to Adina Licthman and the Knock Knock Give a Sock chevre for hosting a beautiful Meet Your Neighbors Dinner in our Social Hall this past Monday night. Click here for photos.

Better late than never. We now have a YouTube channel! You can find all sorts of Synagogue videos here. Be sure to subscribe.

---

Purim

Purim begins Wednesday, March 16th.

Services - We plan to gather that night for Maariv at 7:00 PM and then read the Megillah at 7:15 PM. This reading - like all synagogue services and events - is restricted to the fully vaccinated. Unvaccinated children younger than 5 are welcome. To enter you must bring proof of vaccination. (If you are immunocompromised, you are invited to join over Zoom, here.) Following the Megillah there will be a celebration in our Social Hall. The following morning we will convene an 8:00 AM Shacharit which will be followed by the Megillah at 8:30 AM. (If you are immunocompromised, you are invited to join over Zoom, here.)

Sponsorship - The Committee for Purim Chaos is actively plotting various chaotic activities, toned down and consistent with our COVID protocols, but that require some financial support as well as assistance in setting up. For more information and/or to sponsor something, please click to our Purim Chaos page.


Purim Charity - Matanot L'Evyonim (gifts to the poor) is arguably the most important mitzvah of Purim. In the course of our own joy, we make it our duty to share with others, thus amplifying the spirit of unity that we read about in the Megillah, and extending the divine generosity shown to our people. In the spirit of modern Religious Humanism, we extend this kindness to both our Jewish and non-Jewish neighbors. This Purim we will again partner with Rabbi Zvi Romm of the Bialystoker Synagogue, Rabbi Joe Wolfson of JLIC-NYU and the NYU community, the Bowery Mission, the Masbia Soup Kitchen Network, and Knock Knock Give a Sock, in providing gifts to those in our neighborhood who truly need our assistance. You may make a donation here or Venmo us @sixthstreetsynagogue (be sure to specify Purim Charity!). Of course you may also bring in a check (made out to Sixth Street Community Synagogue Rabbi's Discretionary) or cash before or on Purim.


Kid's Post-Purim Party - There will be a party for the Kommunity Kinder on Sunday, March 20th at 11:00 AM. Details to follow.

---

Membership has almost no privileges.


But it's the right thing to do and it allows us to thrive. Won't you please share in our great legacy and help us continue our impressive revitalization? There are, of course, various membership options and we hope that one works for you.

| | |
| --- | --- |
| Membership Level | |
| Family | $1000 |
| Individual | $550 |
| Associate | $300 |
| Student | $150 |

You can also Venmo us @sixthstreetsynagogue, or mail a check to 325 East 6th Street, New York, NY 10003.

---


Classes

Our weekday classes are being held on Zoom. For those of you who do not know, Zoom is a remote conferencing service that facilitates meetings online, by video and by phone. A useful instructional video may be found here. We strongly encourage you to download the free app to your phones and/or computers and then click the meeting links that we provide. If you do not have the technology to participate over the Internet, you may simply dial in. We will provide the links and numbers in a separate email as well as PDFs of any relevant class material. To access a schedule of upcoming classes, class materials, and zoom links, click here.

FOUNDATIONS OF JUDAISM: A sensitive and sophisticated introduction to Judaism, intended for beginners, focusing on many of the ritual, legal, linguistic, and philosophical basics of our faith. Wednesdays, 6:30-8:00 PM.

---

Downtown Community


We are thrilled to have Shifra Friedman as the Yoetzet Halacha for the downtown community. Yoetzet Shifra is available to answer questions related to Toharat HaMishpacha and may be reached by phone at (646) 598-1080 and by email. Click here to read our recent e-mail about her appointment.

There are several local Kosher options that are open for take-out/delivery:

Bagel Boss at 263 First Avenue

Mocha Burger at 496 LaGuardia Place
Mocha Red at 137 4th Avenue
Sushi Tokyo at 121 19th Street

Mendy's at 441 Park Ave South

We are proud to be a member synagogue of The Downtown Va'ad, an Orthodox rabbinic network intended to advance the welfare and flourishing of the Downtown community. Check out the Va'ad on Facebook for more information.

---

Feedback

We encourage your participation and insight. Feedback to Elie Yudewitz, Rabbi Bellino or the Shul Office would be most appreciated. Please contact us with any suggestions and/or concerns, or most importantly, to volunteer. You can also make suggestions here.

We like to have fun and be creative on social media. Like us on Facebook and follow us on Instagram for much much more!
Sixth Street Community Synagogue

We like to think we're different. Everyone from the traditionally Orthodox to the occasionally observant feels at home here - 365 days a year. We hope you do too.

Contact Us

325 East 6th Street
New York, NY 10003

info@sixthstreetsynagogue.org
Tue, May 24 2022
23 Iyyar 5782
membership
Our historic and beautiful building, our thoughtful programming, and our welcoming atmosphere are possible only with the annual support of our community.
Become a member here.
Renew your membership here.
Thank you for sharing in our great legacy and for helping us to continue our impressive revitalization.
The Downtown Eruv
Our Eruv has dramatically improved our Shabbat experience and observance. It has helped our synagogues and institutions to build larger and more dedicated communities.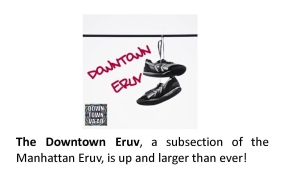 To support the Eruv click here.
Zmanim
Alot Hashachar
3:49am
Earliest Tallit
4:32am
Netz (Sunrise)
5:32am
Latest Shema
9:12am
Zman Tefillah
10:26am
Chatzot (Midday)
12:53pm
Mincha Gedola
1:30pm
Mincha Ketana
5:10pm
Plag HaMincha
6:42pm
Shkiah (Sunset)
8:14pm
Tzeit Hakochavim
9:03pm
More >>
Tue, May 24 2022 23 Iyyar 5782