Vayera 5775
11/07/2014 09:05:19 AM
Shabbat Vayera Services
Friday, November 7
Shacharit:
6:30 AM
Candles before:
4:27 PM
Mincha/Carlebach Kabbalat Shabbat:
4:30 PM
Repeat the Shema after:
5:35 PM


Saturday, November 8
Shacharit: 9:00 AM
Shema Before: 9:07 AM

A Kugel (2 types), Cholent (3 types), and Cake (several)
Kiddush has been sponsored by:

Bracha & Mendel Kaplan
in celebration of their 23rd wedding anniversary
and Bracha's graduation from Court Stenography School.
Shelly & Elie Yudewitz
in celebration of their 6th wedding anniversary
and the birth of their daughter Liat Yaira.
Immediately following Kiddush,
Miriam Kaplan will teach her class on Tehillim.
Mincha: 4:10 PM
At Seudah Shelishit, Rabbi Bellino will present
Maimonides on Parshat Vayera.
Maariv: 5:23 PM
Musical Havdala: 5:35 PM
Weekday Services
Shacharit Services
Sunday: 7:30 AM
Monday-Friday: 6:30 AM
Evening Mincha/Maariv Services on 6th Street
Sunday-Thursday: 4:40 PM
ShulCloud - Over the course of the next week, our shul will be migrating onto a new website and shul management system called ShulCloud. You should receive a login next week -- we ask for your help and patience in getting accounts set up and correcting any errors our database may have.
Shabbat Scholar Series: November 14-15

Rabbi Dr. Lawrence J. Kaplan:

Maimonides Today

Please join us on Parshat Chayei Sarah (November 14-15) as we welcome our first Shabbat Scholar. Rabbi Dr. Lawrence J. Kaplan is a Professor of Rabbinics and Jewish Philosophy at McGill University in Montreal. This Shabbaton includes Kabbalat Shabbat at 4:25 PM, a Friday night dinner at 5:30 PM ($35 and RSVP required), a lecture at 7:00 PM (free to attend), Shabbat morning sermon, and study at Seudah Shelishit.
Friday Night
Dinner in the Social Hall at 5:30 PM
"The Purpose of the Guide of the Perplexed:
God's Wisdom in Torah and Nature" at 7:00 PM
Shabbat Morning Sermon
"The Wooing of Rebecca: Test of Character or Auspicious Omen?"
Shabbat Afternoon Seudah Shelishit
"
Was Maimonides a Pluralist?"
RSVP for dinner here by ASAP.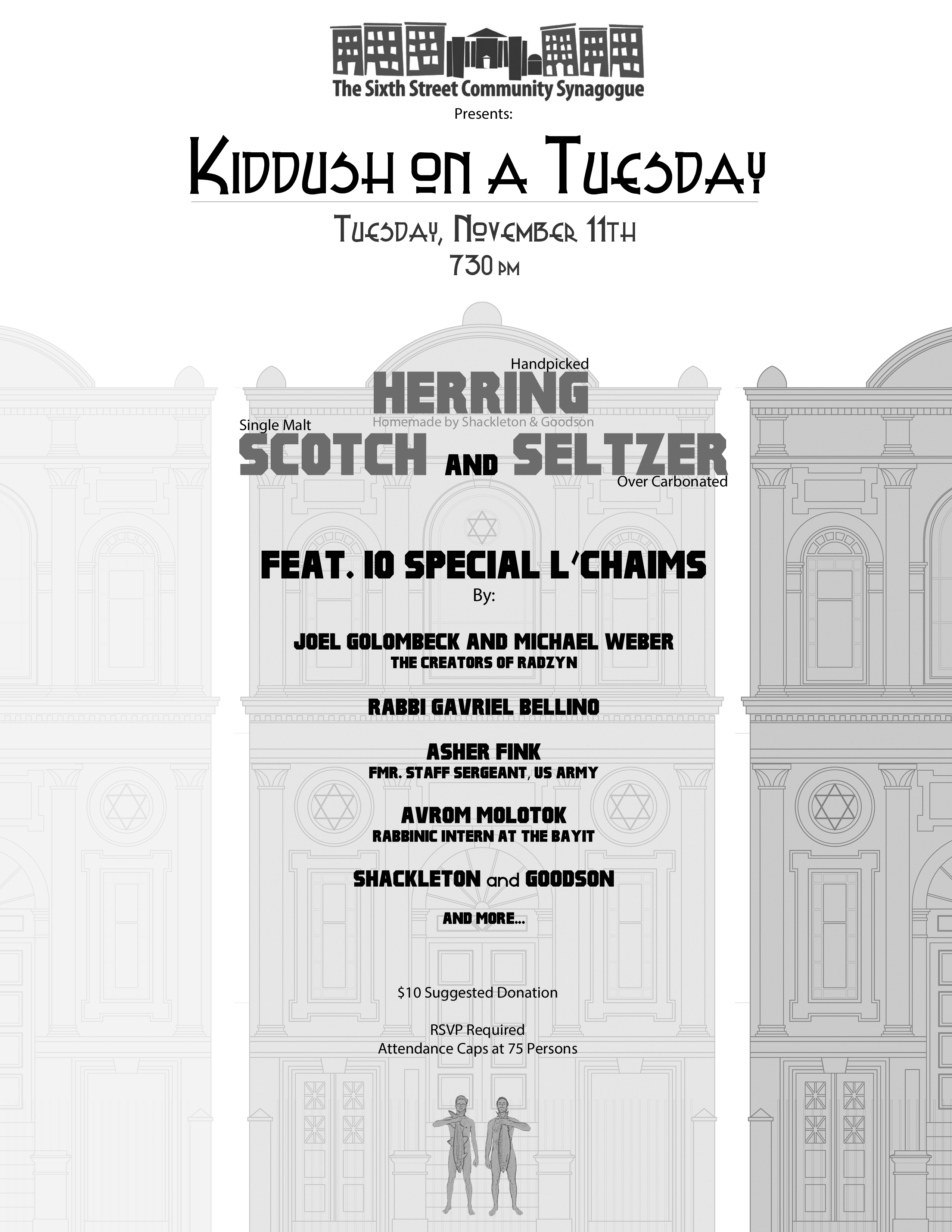 RSVP today. Click here
.
Thank you to all those of you who pledged toward the Kol Nidre Appeal. If you have not yet made payment, please do so.
Please support our minyanim,
especially the early evening Mincha/Maariv service (called this week for
4:40 PM)
.


The Foundations Classes will meet this Wednesday night. The Wednesday Maimonides class will begin in a few weeks.


Kiddush is an important factor in growing and sustaining the vitality of our community. We need sponsors, volunteers, and suggestions as to how Kiddush may be improved. For more information email rabbi@sixthstreetsynagogue.org
Growth - Bringing so many people together requires administrative sensibility and sensitivity. Toward that end, we encourage your participation and insight. Feedback to Elie Yudeitz, Rabbi Bellino or the Shul Office would be most appreciated. Please contact us with any suggestions and/or concerns, or most importantly, to volunteer.
Update this content.
Sun, July 5 2020
13 Tammuz 5780
membership
Our historic and beautiful building, our thoughtful programming, and our welcoming atmosphere are possible only with the annual support of our community.
Become a member here.
Renew your membership here.
Thank you for sharing in our great legacy and for helping us to continue our impressive revitalization.
The Downtown Eruv
Our Eruv has dramatically improved our Shabbat experience and observance. It has helped our synagogues and institutions to build larger and more dedicated communities.

To support the Eruv click here.
Zmanim
Alot Hashachar
3:44a
Earliest Tallit
4:29a
Netz (Sunrise)
5:31a
Latest Shema
9:15a
Zman Tefillah
10:31a
Chatzot (Midday)
1:01p
Mincha Gedola
1:38p
Mincha Ketana
5:23p
Plag HaMincha
6:56p
Shkiah (Sunset)
8:30p
Tzeit Hakochavim
9:20p
More >>
Sun, July 5 2020 13 Tammuz 5780