Announcements
Kol Nidrei Campaign
10/04/2022 12:14:49 PM
Dear Friends,
I hope that you are all well and hydrating this Erev Yom Kippur. Here's the short version of my appeal: I need your help to rebuild this unique synagogue. Click here to participate in the Kol Nidrei Appeal and then go back to your water bottles.
If you need more convincing, here goes the longer version: Despite another chaotic and unpredictable year, the Sixth Street Community Synagogue is still very much a locus of thoughtful and fun Modern Orthodox Judaism. This year has included several essential and aesthetic improvements to our 175 year old building. Classes are accessible and thoughtful. Davening is beautiful and efficient. Kiddush is actually delicious, and the beer is well curated. 
But like every other institution, the synagogue requires your help to return to its pre-COVID level of functioning. The building needs more protection and care, additional professional roles must be developed, and services and events that attract a broad audience must be offered. The synagogue must - not only return to - but exceed its former glory.
As you know, this project of Teshuva - the return to our higher selves and to God - requires that we re-evaluate, re-prioritize, and then re-affirm our commitment to those things that truly matter. I hope that our synagogue is on your list and that you are able to partner with me in its great revitalization and success.
I am grateful to you for your support,
You can click here to participate in the Kol Nidrei Appeal.
Hydrate. Gmar Tov,
Gavriel Bellino, Rabbi
Mon, September 25 2023
10 Tishrei 5784
Yom Kippur 5784
To discuss membership or any special seating needs that you may have, please contact us.
membership
Our historic and beautiful building, our thoughtful programming, and our welcoming atmosphere are possible only with the annual support of our community.
Become a member here.
Renew your membership here.
Thank you for sharing in our great legacy and for helping us to continue our impressive revitalization.
The Downtown Eruv
Our Eruv has dramatically improved our Shabbat experience and observance. It has helped our synagogues and institutions to build larger and more dedicated communities.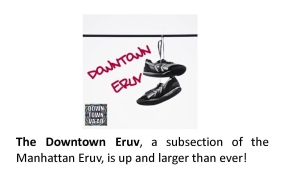 To support the Eruv click here.
Zmanim
Alot Hashachar
5:25am
Earliest Tallit
5:57am
Netz (Sunrise)
6:46am
Latest Shema
9:46am
Zman Tefillah
10:47am
Chatzot (Midday)
12:47pm
Mincha Gedola
1:17pm
Mincha Ketana
4:18pm
Plag HaMincha
5:33pm
Shkiah (Sunset)
6:48pm
Havdalah
7:30pm
Tzeit Hakochavim
7:29pm
More >>
Mon, September 25 2023 10 Tishrei 5784