Sukkot 5780
10/13/2019 11:04:19 AM
| | |
| --- | --- |
| Author | |
| Date Added | |
| Automatically create summary | |
| Summary | |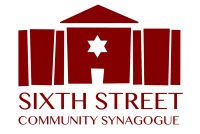 We wish our friends & members
a
very happy Sukkot.

We wish a Mazal Tov to Rebecca Rubin and Yosef Gosser on their recent engagement.
Please join us in our beautiful sukkah. We are grateful to the Sixth Street Kommunity Kinderlach, David Lessman, as well as our faithful building manager, Vincenzo Aiosa and his team, for their efforts in building, preparing, and enhancing our sukkah.
We look forward to delicious, house-sponsored

Cake/Kugel Kiddushes

in our Sukkah on the first two days of Yom Tov.

Sunday, October 13 – EREV SUKKOT
Candle Lighting: 6:01 PM
Mincha/Maariv: 6:00 PM

Monday, October 14th – SUKKOT I
Shacharit: 9:00 AM
Shema Before: 9:53 AM
Mincha: 6:05 PM
Maariv: 6:35 PM
Candle Lighting (pre-existing flame) After: 6:58 PM

Tuesday, Octber 15th – SUKKOT II
Shacharit: 9:00 AM
Shema Before: 9:54 AM
Mincha: 6:05 PM
Maariv: 6:47 PM
Havdalah: 6:57 PM

CHOL HAMOED SHACHARIT
Wednesday thru Friday: 6:15 AM
Sunday (Hoshana Raba): 7:30 AM
The Synagogue Sukkah will be open on the first two days of Sukkot during the following hours:

Evenings: 7:00-10:00 PM
Afternoons: 12:00-3:00 PM
 
Join us on Monday, October 21st, at 5:30 PM for our annual Simchat Torah Party, and then sing and dance with the Torahs (both real and plush) as Hakkafot begin at 7:00 PM.

Come celebrate with us again on Tuesday, October 22nd, at 8:30 AM, for services, more Hakkafot, and Aliyot.
On Tuesday, October 22nd, there will be a Women's Torah Reading at 10:30 AM. For more information, please contact Ashira Lubkin.
Following services on Simchat Torah there will be a Monster Kiddush.
Fri, January 24 2020
27 Tevet 5780
membership
Our historic and beautiful building, our thoughtful programming, and our welcoming atmosphere are possible only with the annual support of our community.
Become a member here.
Renew your membership here.
Thank you for sharing in our great legacy and for helping us to continue our impressive revitalization.
The Downtown Eruv
Our Eruv has dramatically improved our Shabbat experience and observance. It has helped our synagogues and institutions to build larger and more dedicated communities.

To support the Eruv click here.
Zmanim
Alot Hashachar
5:48a
Earliest Tallit
6:20a
Netz (Sunrise)
7:13a
Latest Shema
9:40a
Zman Tefillah
10:30a
Chatzot (Midday)
12:08p
Mincha Gedola
12:33p
Mincha Ketana
3:01p
Plag HaMincha
4:02p
Candle Lighting
4:45p
Shkiah (Sunset)
5:04p
Tzeit Hakochavim
5:47p
More >>
Fri, January 24 2020 27 Tevet 5780