IN 3 WEEKS! Community Dinner with Shabbat Scholar-in-Residence Rabbi Dr. Benjy Epstein
10/30/2019 04:34:27 PM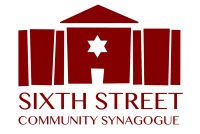 In three weeks, on Shabbat Chayei Sarah, November 22nd - 23rd, we will welcome as our Shabbat Scholar-in-Residence, Rabbi Dr. Benjy Epstein, a noted psychologist, author, and speaker, as well as the Director of Staff Development and Clinical Research at Camp HASC.
Please join us on Friday night for a delicious and social Community Shabbat Dinner, and join us as well over Shabbat for a series of talks, guided practices, and discussions on Jewish Mindfulness, Meditation, and Modern Spirituality.

Reservations for the Friday night dinner should be made by Tuesday, November 19th.
Student: $18 | Dinner: $36 | Sponsor: $180
This Shabbaton includes:
Mincha/Kabbalat Shabbat at 4:15 PM
Friday night dinner in shul at 5:45 PM (RSVP and payment required)
Lecture at 7:15 PM (free

– all are welcome

)
Shabbat morning sermon at 10:30 AM
Q & A discussion at Seudah Shelishit at 4:20 PM
 
---
Speaking Schedule & Topics

"Living in the Presence: An Introduction to Jewish Mindfulness"
Friday Night, 7:00 PM

"A Guided Meditation"
Shabbat Morning, 10:30 AM
"Modern Spirituality: A Q & A with Rabbi Dr. Epstein"
Seudah Shelishit, 4:20 PM
---
  Rabbi Dr. Benjy Epstein
Rabbi Benjamin Epstein, Ph.D. is an experienced psychologist, author, and speaker who blends traditional Mindfulness-Based Cognitive Therapy (MBCT) with cognitive, behavioral, spiritual, and acceptance techniques. Dr. Benjy works effectively across a broad spectrum of age groups to enhance well being by teaching how to live more mindfully and in the present.  In addition to his private practice and mindfulness seminars, he spends his Summers as the Director of Staff Development and Clinical Research in Camp HASC. Dr. Benjy lives in Jerusalem with his wife and four children.
Dr. Benjy has recently authored, "Living in the Presence: A Jewish Mindfulness Guide for Everyday Life," a work designed to provide a practical roadmap to the discovery of purpose, to capture and experience some of the benefits of the world-to-come, right now, in this world. To order, click here.
Fri, May 29 2020
6 Sivan 5780
membership
Our historic and beautiful building, our thoughtful programming, and our welcoming atmosphere are possible only with the annual support of our community.
Become a member here.
Renew your membership here.
Thank you for sharing in our great legacy and for helping us to continue our impressive revitalization.
The Downtown Eruv
Our Eruv has dramatically improved our Shabbat experience and observance. It has helped our synagogues and institutions to build larger and more dedicated communities.

To support the Eruv click here.
Zmanim
Alot Hashachar
3:43a
Earliest Tallit
4:27a
Netz (Sunrise)
5:28a
Latest Shema
9:10a
Zman Tefillah
10:25a
Chatzot (Midday)
12:54p
Mincha Gedola
1:31p
Mincha Ketana
5:14p
Plag HaMincha
6:46p
Candle Lighting
8:01p
Shkiah (Sunset)
8:19p
Tzeit Hakochavim
9:08p
More >>
Fri, May 29 2020 6 Sivan 5780