Announcements
Weekly Update: Shabbat Haazinu 5776
09/24/2015 11:03:09 PM
| | | |
| --- | --- | --- |
| | Weekly Update: Shabbat Haazinu | |
Shabbat Information

Kiddush has been sponsored by

The House

Immediately following Kiddush,

Miriam Kaplan will teach her class

on Tehillim.

Shabbat Times

| | |
| --- | --- |
| Candlelighting Before | 6:30 PM |
| Mincha/Kabbalat Shabbat | 6:35 PM |
| Repeat Shema After | 7:28 PM |
| Daf Yomi | 8:15 AM |
| Shacharit | 9:00 AM |
| Shema Before | 9:47 AM |
| Mincha | 6:15 PM |
| Seuda Shelishit | 6:35 PM |
| Maariv | 7:18 PM |
| Musical Havdalah | 7:28 PM |

See the shul calendar for davening times during the week and schedule of events
Community News

Yom Kippur on Sixth Street was magnificent. We are grateful to those who made this possible:

Gloria Karpas, Brenda Pace, and Audriana Paulian who provided the beautiful flowers.

David Landis & David Lessman who transitioned our sanctuary to High Holy Day white.

Mike Miles, Eli Szus, Haim Shechtman, Rachel Rochlin and Henry Frank who prepared the sanctuary, e.g., place-cards, machzor hauling, etc.

Richard McBee for overseeing sanctuary repairs and improvements.

Esther & Marty Tessler who enhanced our sanctuary by dry-cleaning the parochets and polishing the mechitza.

Our gabbaim, Shimmy Rapps and Elie Yudewitz, who ran an efficient service and organized the honors.

Our chazzanim, Modi Rosenfeld, Mendel Kaplan, and Dr. Yehoshua Livnat who inspired us with their beautiful davening.

Our neighbor, Matt Ruskin, as well as our friends from the NYPD, Inspector Peter Venice and Officer Jimmy Secreto, who protected us.

Cori Robinson for arranging and managing the High Holy Day childcare.

Miriam Kaplan, Nicole Blau, Shimmy Rapps, and Mike Miles who stayed to clean up after our break fast.

The Lebewohl Family for providing the plethora of baked goods for the break fast.

Modi Rosenfeld for his impassioned and hilarious Kol Nidrei Appeal.

We are grateful for the positive response to our Kol Nidei Appeal. Please send checks to 325 East 6th Street, New York NY 10003, or pay online. If you have not yet paid your membership or for your seats, please do so ASAP. For more information, please contact our treasurer, Haim Shechtman, or Rabbi Bellino.

Sukkot is Sunday night. A full Sukkot schedule will be emailed on Saturday night. In the meantime, be aware that our Sukkah is beautiful and this is largely due to the efforts of Richard McBee, Nicole Blau, Ely Moizman, David Lessman, and our faithful contractor, Vincenzo Aiosa.

Simchat Torah is NEXT Monday night. Please come on Monday for Hakafot at 7:00 PM, our Party at 6:00 PM, and our Pre-Game Party at 5:00 PM. Stay tuned for more information on the pre-pre-game party.

---

Classes

FOUNDATIONS OF JUDAISM: A sensitive and sophisticated introduction to Judaism, intended for beginners, and focusing on many of the ritual, legal, and philosophical basics of our faith. Classes are taught by Rabbis Jason Herman, Yehuda Sarna, Joe Wolfson, and Gavriel Bellino. Wednesdays 6:30-8:30 PM.

THOUGHT OF NACHMANIDES: A weekly class focusing on the thought of Rabbi Moses ben Nachman. Rabbi Bellino will teach the more essential commentaries on that week's parsha and will contextualize the Ramban's remarks within the greater contexts of parshanut and philosophy. Wednesdays 8:00-9:15 PM.

MIRIAM KAPLAN ON TEHILLIM: After Kiddush, Miriam Kaplan will continue presenting Tehillim (Psalms), offering both classical commentaries and her own unique approach. Shabbat, Following Kiddush.

JEWISH POETRY: Rabbi Bellino will present ancient, medieval, and early-modern religious poetry. Special attention will be paid the Biblibal, Talmudic, Midrashic, and often Kabbalist references contained therein. Shabbat, Seudah Shelishit.

---

Events

On Shabbat Lech Lecha (October 23-24) Wendy Amsellem of Drisha Institute will join us as a Shabbat Scholar. RSVP and pay for Friday night dinner, as well as review the schedule here. Our Shabbatonim are sponsored by a generous bequest made by Garry Roemer.

SAVE THE DATE!!! Our second Kiddush on a Tuesday will be November 11. Get ready for delectable herring, scotch, and seltzer. And most likely a lot of herring stories. Check out photo's from last year here.

---

Downtown Community

Get your four species! Be sure to buy yours from the Shoshani Family They are selling sets at 28 Canal Street (the south corner of Canal and Essex, a block before MTJ). Price is $30 per set. Ask for Ezra. Friday, Sept. 25, 8 AM - 4 PM; Saturday Night, 9 PM - 1 AM; Sunday, Sept. 27, 8 AM - 4 PM.

We are thrilled that there are new Kosher options in our neighborhood.

Mocha Burger at 496 Laguardia Place.

Prime Sushi at the Promenade Sports Bar, 344 Third Avenue.

Please support all of our local Kosher restaurants.

We are proud to be a member synagogue of The Downtown Va'ad, an Orthodox rabbinic network, founded by Rabbis Sarna & Bellino, intended to advance the welfare and flourishing of the Downtown community. Check out the Va'ad on Facebook for more information.

Last Sunday's Downtown Va'ad Morning of Study was a wonderful success! We thank our friends and teachers, Dr. Moshe Halbertal, Dr. Michelle Sarna and Rabbi Aviad Bodner, as well as the rest of downtown for participating in our communal Yom Kippur preparation.
Feedback

We encourage your participation and insight. Feedback to Elie Yudewitz, Rabbi Bellino or the Shul Office would be most appreciated. Please contact us with any suggestions and/or concerns, or most importantly, to volunteer. You can also make suggestions here.

We like to have fun and be creative on social media. Like us on Facebook to see more updates!
Sixth Street Community Synagogue

We like to think we're different. Everyone from the traditionally Orthodox to the occasionally observant feels at home here - 365 days a year. We hope you do too.

Contact Us

325 East. 6th Street
New York, NY 10003

info@sixthstreetsynagogue.org
Mon, September 25 2023
10 Tishrei 5784
Yom Kippur 5784
To discuss membership or any special seating needs that you may have, please contact us.
membership
Our historic and beautiful building, our thoughtful programming, and our welcoming atmosphere are possible only with the annual support of our community.
Become a member here.
Renew your membership here.
Thank you for sharing in our great legacy and for helping us to continue our impressive revitalization.
The Downtown Eruv
Our Eruv has dramatically improved our Shabbat experience and observance. It has helped our synagogues and institutions to build larger and more dedicated communities.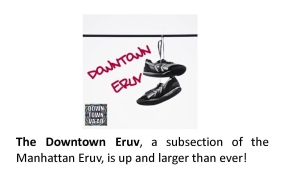 To support the Eruv click here.
Zmanim
Alot Hashachar
5:25am
Earliest Tallit
5:57am
Netz (Sunrise)
6:46am
Latest Shema
9:46am
Zman Tefillah
10:47am
Chatzot (Midday)
12:47pm
Mincha Gedola
1:17pm
Mincha Ketana
4:18pm
Plag HaMincha
5:33pm
Shkiah (Sunset)
6:48pm
Havdalah
7:30pm
Tzeit Hakochavim
7:29pm
More >>
Mon, September 25 2023 10 Tishrei 5784