Announcements
Shemini Atzeret / Simchat Torah
10/06/2023 12:36:29 PM
We have much to look forward to as we conclude our Holliday Season.
We return for Yom Tov / Shabbat services tonight at 6:15 PM. 
Shemini Atzeret day will include both Kohelet and Yizkor. There will be no kiddush following services.
Simchat Torah festivities begin Shabbat afternoon with a 5:00 PM pre-game, Mincha and Party at 5:45 PM, with Maariv and Hakafot beginning at 7:00 PM. We remind We remind you that our Simchat Torah celebrations tend to skew early (leaving plenty of time for side-plans, meals, sleep).
Simchat Torah Morning services begin at 8:30 AM, with a Super Secret Coffee Kiddush at 9:30 AM, Hakafot at 10:00 AM and Aliyot at 10:30 AM. Please be sure to bring your children to the Kids' Hakafa - sponsored by Alan Bubbles Schwartz - at approximately 11:00 AM.
Immediately following Simchat Torah services there will be a Kiddush sponsored by Celine & Alex Rohr in celebration of the birth of their daughter, Charlotte Sarah (שרה).
Chag Sameach.
Hoshana  Rabba / Erev Shemini Atzeret
Friday, October 6

Shacharit:

8:00 AM

Candle Lighting:

6:12 PM

Mincha:

6:15 PM

Maariv:

6:30 PM
 
 
Shemini Atzeret
Saturday, October 7

Shacharit:

9:00 AM

Shema before:

9:50 PM

Yizkor:

10:45 PM

Pre-Grame:

5:00 PM

Mincha & Party:

5:45 PM

Maariv/Hakkafot:

7:00 PM
Cande Lighting from a
pre-existing flame:
7:10 PM
 
 
Simchat Torah
Sunday, October 8

Shacharit:

8:30 AM

Shema before:

9:51 AM

Hakkafot:

10:00 AM

Aliyot:

10:30 AM

Mincha:

6:10 PM

Maariv:

7:00 PM

Havdalah:

7:08 PM
.
Sun, December 10 2023
27 Kislev 5784
membership
Our historic and beautiful building, our thoughtful programming, and our welcoming atmosphere are possible only with the annual support of our community.
Become a member here.
Renew your membership here.
Thank you for sharing in our great legacy and for helping us to continue our impressive revitalization.
The Downtown Eruv
Our Eruv has dramatically improved our Shabbat experience and observance. It has helped our synagogues and institutions to build larger and more dedicated communities.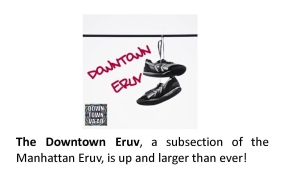 To support the Eruv click here.
Zmanim
Alot Hashachar
5:41am
Earliest Tallit
6:14am
Netz (Sunrise)
7:09am
Latest Shema
9:28am
Zman Tefillah
10:15am
Chatzot (Midday)
11:49am
Mincha Gedola
12:12pm
Mincha Ketana
2:32pm
Plag HaMincha
3:30pm
Shkiah (Sunset)
4:28pm
Tzeit Hakochavim
5:14pm
More >>
Sun, December 10 2023 27 Kislev 5784