Announcements
Shavuot 5783
05/24/2023 10:16:08 PM

Erev Shavuot - Thursday, May 25
| | |
| --- | --- |
| Mincha/Kabbalat Shabbat/ Maariv: | 7:55 PM |
| Candle Lighting: | 7:57 PM |
| Maariv | 8:30 PM |
| Shavuot Dinner: | 8:45 PM |
| Shema after: | 9:04 PM |
| Torah Study: Moses the Time Traveler: | 9:45 PM |

 Shavuot I - Friday, May 26th
Daf Yomi:                                     

8:00 AM

Shacharit:                                                  

9:00 AM

Shema Before:

9:11 AM

Asseret HaDibrot:

10:15 AM

A Dairy Kiddush has been sponsored by the Bellino Family
in observance of the Yahrtzeit of Reuben Goldberg
- Norma's uncle - and in observance of the Yahrtzeit
of Jenny Blinder - Norma's grandmother.
 

Mincha/Maariv:

7:00 PM

Candle Lighting (From pre-existing flame):

7:58 PM

Shema after:

9:05 PM
Shavuot II - Shabbat, May 27th
Daf Yomi:                                     

8:00 AM

Shacharit:                                                  

9:00 AM

Shema Before:

9:10 AM

Megillat Rut:

10:00 AM

Yizkor:

10:40 AM

A Dairy Kiddush has been sponsored by
Elizabeth Ehrlich & Leon Potok
in celebration of the birthdays of their
grandchildren, Astrid and Shai Kotlyar.
 

Mincha:

7:40 PM

Seudah Shelishit:

8:00 PM
| | |
| --- | --- |
| Maariv:                                             | 8:56 PM |
| Havdalla: | 9:06 PM |
We very much look forward to seeing all those of you who have RSVPed for the Shavuot Diinner. Dinner will begin at approximately 8:45 PM immediately following Mincha/Maariv at 7:45 PM.
After dinner, Rabbi Bellino will present: "Moses the Time Traveler."
We are grateful to our dinner sponsors: Ellen R. Cherrick, Leah Forster, Barbara Chubak, Dana Friedman, Tom Lambert, The Liberman Family, Alex Mollozzi & Isabel Eckstein, Rachel Pezzlo, Dr. Risa Ravitz, Alan Schwartz & Michael Sarid, Andy Teirstein, Shelly & Elie Yudewitz, and Natalie & Garrett Zwahlen.
With the new fiscal year beginning on June 1st, it is once again time for us to encourage membership, asking you to formalize and renew your annual commitments to our synagogue. Membership dues go a long way in supporting our operating expenses, enhancing our thoughtful and unique programming, and allowing us to make many essential repairs and aesthetic improvements to our 175-year-old building. Your partnership in our rebuilding and revitalization is more important than ever. 
---
Membership has almost no privileges.

But it's the right thing to do and it allows us to thrive. Won't you please share in our great legacy and help us continue our impressive revitalization? There are, of course, various membership options and we hope that one works for you.
| | |
| --- | --- |
| Membership Level |   |
| Family | $1000 |
| Individual | $550 |
| Associate | $300 |
| Student | $150 |
You can also Venmo us @sixthstreetsynagogue, or mail a check to 325 East 6th Street, New York, NY 10003.
---
Mon, September 25 2023
10 Tishrei 5784
Yom Kippur 5784
To discuss membership or any special seating needs that you may have, please contact us.
membership
Our historic and beautiful building, our thoughtful programming, and our welcoming atmosphere are possible only with the annual support of our community.
Become a member here.
Renew your membership here.
Thank you for sharing in our great legacy and for helping us to continue our impressive revitalization.
The Downtown Eruv
Our Eruv has dramatically improved our Shabbat experience and observance. It has helped our synagogues and institutions to build larger and more dedicated communities.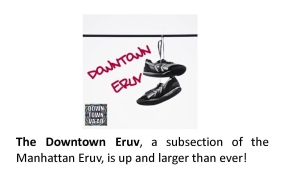 To support the Eruv click here.
Zmanim
Alot Hashachar
5:25am
Earliest Tallit
5:57am
Netz (Sunrise)
6:46am
Latest Shema
9:46am
Zman Tefillah
10:47am
Chatzot (Midday)
12:47pm
Mincha Gedola
1:17pm
Mincha Ketana
4:18pm
Plag HaMincha
5:33pm
Shkiah (Sunset)
6:48pm
Havdalah
7:30pm
Tzeit Hakochavim
7:29pm
More >>
Mon, September 25 2023 10 Tishrei 5784