IN ONE WEEK: Tuesday Evening Lecture Series with Dr. Samuel Fleischacker (Feb. 21)
IN ONE WEEK: Tuesday Evening Lecture Series with Dr. Samuel Fleischacker (Feb. 21)
02/14/2017 05:45:51 PM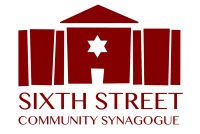 Does It Matter Who Wrote The Torah?
What Would Maimonides Say?
A Talk by Dr. Samuel Fleischacker
Tuesday, February 21, 2017
7:00 PM - 9:00 PM
In one week, on Tuesday, February 21st, at 7:00 PM, our own Dr. Samuel Fleischacker will talk with us about Maimonides' Eighth Principle of Faith - Divine Authorship of the Torah.
Famously, Maimonides says in his Commentary on the Mishnah and his Mishneh Torah that Moses wrote every word of the Torah at the dictation of God.  But Maimonides also says that God can't talk, and that anyone who thinks God can talk is an idolater. So what exactly does Maimonides mean by describing Moses as a scribe who wrote down God's words? 

Please join us as Dr. Fleischacker presents a philosophical approach to the proper understanding of Maimonides' views on the nature of revelation - empowering us to stand, once again, with Moses on Sinai.
Pizza and Beer will be served.
The event is free but please register on the event page if you plan to attend.
---
About Dr. Fleischacker
Samuel Fleischacker is a Professor of Philosophy at the University of Illinois-Chicago, and currently a Berggruen Fellow at NYU. He studied at Yale University, receiving his Ph.D. in 1989.  He works in moral and political philosophy, the history of philosophy, aesthetics and the philosophy of religion. Among the issues that have particularly interested him are the moral status of culture, the nature and history of liberalism, and the relationship between moral and other values (aesthetic values, religious values, political values). His publications include The Ethics of Culture (Cornell, 1994), A Third Concept of Liberty: Judgment and Freedom in Kant and Adam Smith (Princeton, 1999), On Adam Smith's Wealth of Nations: A Philosophical Companion (Princeton, 2003), A Short History of Distributive Justice (Harvard, 2004), Divine Teaching and the Way of the World (Oxford, 2011), What Is Enlightenment? (Routledge, 2012), and The Good and the Good Book (Oxford, 2015). Professor Fleischacker has been a Fellow of the Center for Advanced Studies in the Behavioral Sciences at Stanford, the Institute for Advanced Study in the Humanities at Edinburgh University, and the University Center for Human Values at Princeton.  He taught previously at Williams College.
Sat, June 23 2018
10 Tammuz 5778
membership
Our historic and beautiful building, our thoughtful programming, and our welcoming atmosphere are possible only with the annual support of our community.
Become a member here.
Renew your membership here.
Thank you for sharing in our great legacy and for helping us to continue our impressive revitalization.
Zmanim
Alot Hashachar
3:36a
Earliest Tallit
4:22a
Netz (Sunrise)
5:25a
Latest Shema
9:12a
Zman Tefillah
10:27a
Chatzot (Midday)
12:58p
Mincha Gedola
1:36p
Mincha Ketana
5:22p
Plag HaMincha
6:57p
Shkiah (Sunset)
8:31p
Havdalah
9:22p
Tzeit Hakochavim
9:22p
More >>
Sat, June 23 2018 10 Tammuz 5778